Massage is Therapy
Massage therapists have worked diligently to distinguish themselves as professionals, and care about the well-being of their clients, and the reputations of their businesses.
Many citizens rely on Licensed Massage & Bodywork Therapists to assist them in stress management, to control pain, and recover from injury or surgery.  Massage therapy is used for rehabilitation of injuries like back/neck pain, strains/sprains, carpal tunnel syndrome and helps with conditions such as fibromyalgia and headaches. Massage therapy is used to help create wellness and reduce stress which is a leading cause of many diseases. On average, consumers who frequent smaller massage therapy practices receive work weekly or monthly or more.
How can the media help?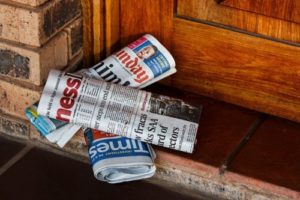 We value the media as allies and advocates of legitimate, tax-paying businesses and members of our community. As such, on behalf of small licensed massage and bodywork therapy business owners, we seek to initiate productive discussion to protect both businesses and consumers.
We implore media professionals to use change the way they speak of trafficking, in an effort to differentiate law-abiding businesses from criminal enterprises.
Refer to the victims that provide illicit services as trafficking victims or sex workers, not masseuses, massage therapists or massage parlors
When speaking about legitimate licensed massage therapists, do not use the word masseuse/masseur. That may be acceptable in France, where the term originated, but in the U.S., those terms are used to refer to people who provide illicit services, often in parlors as victims of trafficking.
Instead, we ask that you use licensed professionals, Licensed Massage & Bodywork Therapists (LMBTs), licensed therapists, and other such designations distinguishing us as It is important that the public understand the difference and use the correct terminology as this will help the massage profession be recognized as the legal allied healthcare professionals that we are.
When speaking of illegal businesses that provide sexual services under the guise of massage, we ask that you refer to those businesses as sex parlors, not massage parlors.
As well, we ask that when referring to LMBT businesses, please use massage practice or massage therapy office, or massage clinic and not massage parlors.
We ask that you help us educate the public to recognize that non-regulated foot parlors currently enjoyed by many consumers is where human traffickers will continue to groom the public and take money away from the state through money laundering practices.
Recognize trafficking as a definition extends beyond sex to labor. We implore you to report labor abuse practices accordingly as they too could put a spotlight on human trafficking.
Perhaps investigative journalists or other media professionals can help find the solution to this problem that affects both human trafficking victims and Licensed Massage & Bodywork Therapists.
Could it be a total and complete Establishment Licensure for all businesses providing massage therapy, from single practitioner to large franchise, and encompassing the practice of reflexology and energy work into laws, similar to the License to Touch that the state of Florida has in place?
Should the massage board look at shutting down places for infringing on the scope of practice through wrongful advertising of massage services such as openly advertising using words like "full body reflexology massage" to describe their services?
Does the state need to involve lenders and property managers, and require them to make sure all businesses provide proper documentation from the Secretary of State?
Should law enforcement officials look into using existing building codes and business license laws to proactively close down parlors?
These are just a few of the questions that Licensed Massage Therapists are pondering as they try to figure out how to insure the future of their profession, and how to protect the general public from unknowingly supporting traffickers. Perhaps someone in the media can help us uncover the answers to these questions and more.