After years of hearing about brothels disguised as massage therapy businesses and the many safety issues this has caused for the massage profession and the recent case of Deshaun Watson, the now infamous football player who sexually assaulted many women, the time is now to say no more.
The massage professional associations have failed us miserably in advocating for better language in the massage licesning laws that make the word massage something that only licensed massage therapists can use. The news has also inaccurately started calling the brothels disguised as massage, 'massage parlors' which they are NOT.
Massage is Therapy. Massage is Not Sex Work. Whether sex work is legal or not, is not the responsiblity of the massage profession. They can do whatever they want, but they need to stop calling it massage.
The Strategic Plan
As of 08/26/2022, under new ownership, the site will start working on creating a reference page for every state to help consumers, the media and the massage profession understand what massage therapy is, how to start separating it from massage therapy and advocating for the massage profession. We will be asking the Federation of Massage State Boards, each state board, massage therapists from each state to start participating in the creation of the site and organizing to work on legislation.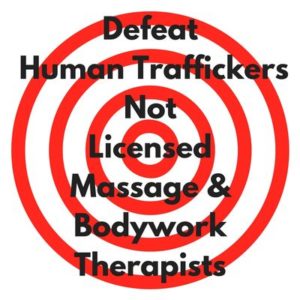 How It All Began
Look Before You Book A Massage was born April 2, 2018. The idea for this website came about after a group of North Carolina Licensed Massage and Bodywork Therapists (LMBTs) began talking two weeks prior, in response to proposed rule changes by the NC Board of Massage and Bodywork Therapy. The rules are in support of NC SB 548, "An Act to Strengthen Human Trafficking Laws", which was signed into law in July, 2017. The majority of LMBTs, while supporting the state's efforts to reduce human trafficking, recognize that the law and its supporting rules will do nothing to stop human trafficking. The criminal activity or trafficking will continue in other ways that will easily affect the public on a larger level.
Because we care about the health and well-being of our clients, and want to make sure the public stays safe, we created this website with accompanying public awareness campaign to insure those seeking out massage and other touch services get the quality of care they deserve. We hope to be able to guide you to professional care, so you can be assured you are not unknowingly supporting brothels disguised as massage businesses and possibly Human Trafficking with your hard-earned money.
Take a look at the resources on our website and contact us to learn more.