People who give massage for compensation must be licensed by the Illinois Department of Financial & Professional Regulation (IDFPR). Massage therapists are at least 18 years old and of good moral character and pass a background check. Registered sex offenders, prostitutes and rapists are not allowed to become massage therapists. Massage therapists in IL get a minimum of 600 hours of instruction and must pass an examination and background check. Licensed massage therapists will include their license number on advertisements. You can look up a license to verify that the person giving massage is indeed trained and licensed .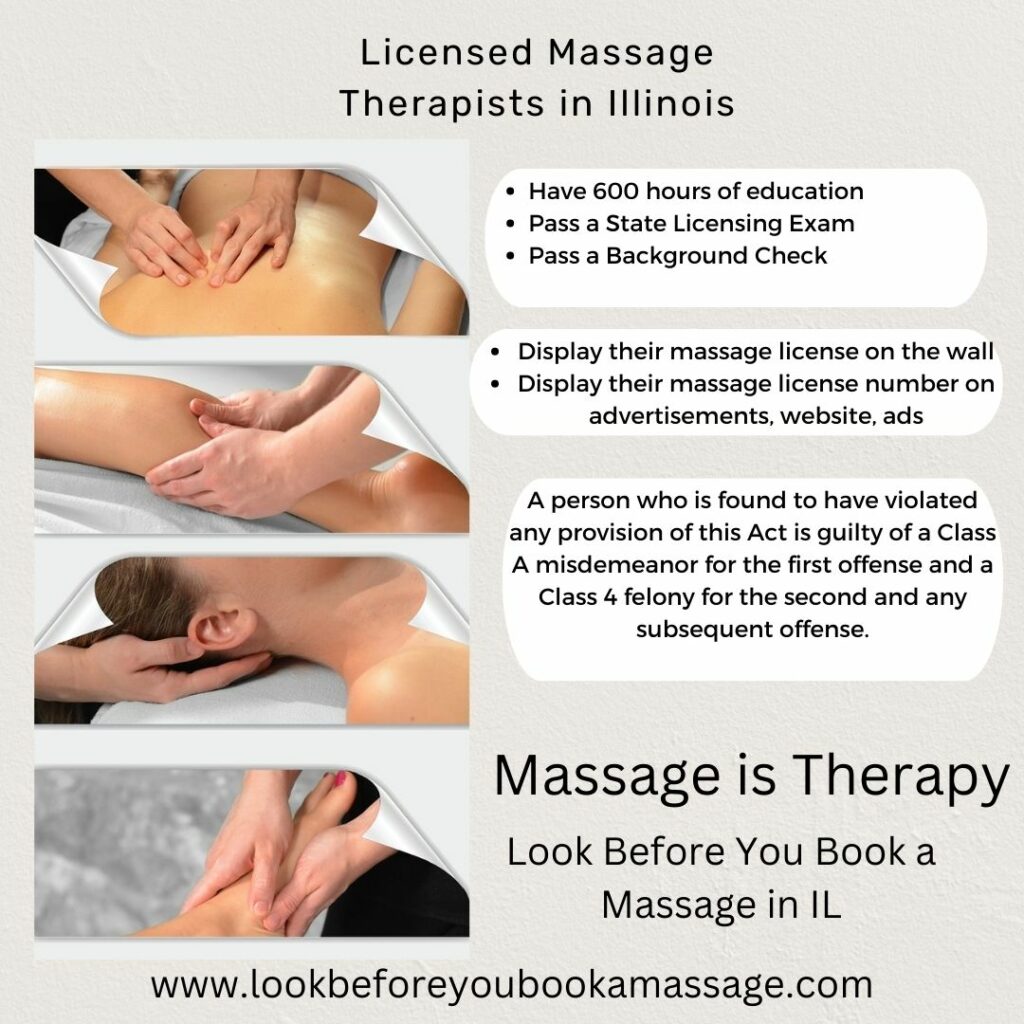 A massage business in IL will also have their license on the wall of the office per the law:
Sec. 32. Display. Every holder of a license shall display it, or a copy, in a conspicuous place in the holder's principal office or any other location where the holder renders massage therapy services. Every displayed license shall have the license number visible.

The license number of therapists should also be in any advertising such as a website, ad or other listing as per Sec 50.
(225 ILCS 57/50)
Sec. 50. Advertising. It is a misdemeanor for any person, organization, or corporation to advertise massage services unless the person providing the service holds a valid license under this Act, except for those excluded licensed professionals who are allowed to include massage in their scope of practice. A massage therapist may not advertise unless he or she has a current license issued by this State. A massage therapist shall include the current license number issued by the Department on all advertisements in accordance with paragraph (4) of subsection (a) of Section 45. "Advertise" as used in this Section includes, but is not limited to, the issuance of any card, sign, or device to any person; the causing, permitting, or allowing of any sign or marking on or in any building, vehicle, or structure; advertising in any newspaper or magazine; any listing or advertising in any directory under a classification or heading that includes the words "massage", "massage therapist", "therapeutic massage", or "massage therapeutic"; or commercials broadcast by any means.

"Massage" or "massage therapy" means a system of structured palpation or movement of the soft tissue of the body. The system may include, but is not limited to, techniques such as effleurage or stroking and gliding, petrissage or kneading, tapotement or percussion, friction, vibration, compression, and stretching activities as they pertain to massage therapy. These techniques may be applied by a licensed massage therapist with or without the aid of lubricants, salt or herbal preparations, hydromassage, thermal massage, or a massage device that mimics or enhances the actions possible by human hands. The purpose of the practice of massage, as licensed under this Act, is to enhance the general health and well-being of the mind and body of the recipient. "Massage" does not include the diagnosis of a specific pathology. "Massage" does not include those acts of physical therapy or therapeutic or corrective measures that are outside the scope of massage therapy practice as defined in this Section.
"Massage therapist" means a person who is licensed by the Department and administers massage for compensation. PROFESSIONS, OCCUPATIONS, AND BUSINESS OPERATIONS
(225 ILCS 57/) Massage Licensing Act.
Practitioners that do not involve intentional soft tissue manipulation, including but not limited to Alexander Technique, Feldenkrais, Reiki, and Therapeutic Touch do not have to obtain a massage licenses. Other types of bodywork such as Rolfing, Trager Approach, Polarity Therapy, and Orthobionomy, are exempt from the Massage Act as well as members of the American Organization for Bodywork Therapies of Asia are exempt from licensure under this Act (Until January 1, 2024, members of the) . Practitioners of other forms of bodywork who restrict manipulation of soft tissue to the feet, hands, and ears, and who do not have the client disrobe, such as reflexology, are exempt from this Act.
Unlicensed Practice of Massage in Illinois
(Section scheduled to be repealed on January 1, 2027)
Sec. 155. Violations.
(a) A person who is found to have violated any provision of this Act is guilty of a Class A misdemeanor for the first offense and a Class 4 felony for the second and any subsequent offense.
(b) Whoever knowingly practices or offers to practice massage therapy in this State without a license for that purpose, or whoever knowingly aids, abets, assists, procures, advises, employs, or contracts with any unlicensed person to practice massage therapy contrary to any rule or provision of this Act, shall be guilty of a Class A misdemeanor and, for each subsequent conviction, shall be guilty of a Class 4 felony.
How to Report Suspicious Activity
Any and all suspicious activity should be reported to the law enforcement agency in your community. Often times, not much results from this but it is important to still report things.
Learn the many suspicious signs and what to look for.
Financial & Professional Regulation
Call Us: 1 (888) 473-4858
Chicago Office
555 West Monroe Street, 5th Floor
Chicago, IL 60661
Springfield Office
320 West Washington Street, 3rd Floor
Springfield, IL 62786